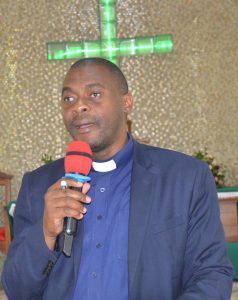 Assistant to Bishop.
Rev. Dean Chediel Ajuaye Lwiza.
Email: dean@elctecd.org
The Diocese headquarters runs its day-to-day activities as one – party of the Diocese. The plans are then prepared to be consolidated with other Plans from District Office, Parishes, Sub-Parishes, Centers with a view to having one Diocese program.
FIVE (5) MAJOR GOALS OF EASTERN AND COASTAL DIOCESE.
• To Strengthening Services and methods of preaching the Gospel at all levels of the Diocese.
• To establish and improve Social Services.
• To establish and improve sustainable sources of revenue.
• To add and develop Resources, Infrastructure and Good Governance.
• Keeping the Environment and adaptation to the Characteristics of the Country.
There is always something happening here in Eastern and Coastal Diocese, and We invite you to come and find out more about our Diocese. Matthew 5:14 – 16.