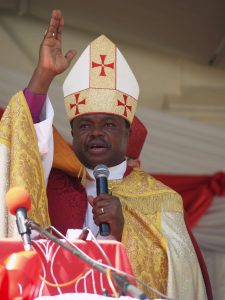 Presiding Bishop.
Rev. Dr. Alex Gehaz Malalusa.
Email: bishop@elctecd.org
ELCT – ECD Focus Areas.
ECD's main duty to ensure spiritual, intellectual and social transformation is articulated through its methodology.
In the strategic plan period 2018 to 2022 ECD work will be conducted under the following five (5) thematic areas:
1. Mission and Evangelism.
2. Education.
3. Planning and Investment.
4. Finance and Administration.
5. Gender and Social Services.
ELCT – ECD Priority Issues from the Situational Analysis.
After careful scrutiny of the ECD operating environment covering SWOT, PESTEL and Stakeholder analysis, the following issues emerged as priority concerns which should be considered during the planning process and implementation of the 2018 – 2022 strategic plan:
• Decreasing number of Church members and income.
• Creating good work relations with Government and preaching proper gospel.
• Bureaucracy in decision making.
• Embracing change and innovation.
• Improve networking for resources mobilization.
• Professionalism and advanced technology.
• Managing risks by being more innovative and creative.
• Under-utilization of technology.
• Strengthening proper teaching of unchanged Word of God in the changing world.
• Strengthening cell churches.
• Sense of ownership and proper management of resources.
• Staff capacity building.
ELCT – ECD Core Values.
• Love and Care.
• Accountability.
• Professionalism.
• Teamwork.
• Integrity.
• Commitment.
John 17:1 – 26.